Your base layer is essential for a lot of reasons. It absorbs perspiration and can't be shed as easily as your other layers, so it needs to be chosen wisely! Unfortunately, layering scrubs for women and looking good can be a challenge that makes you sweat and shiver all on its own. By understanding what to look for in a good base layer piece, understanding how to use your base layer pieces and learning how to combine your work wardrobe layers, you'll never have to sweat it (or anything) again!
Why Base Layers Are Beneficial
Base layers are beneficial for a lot of reasons, from helping you regulate your body temperature to helping you improve your professional image. A good base layer is a good idea no matter what type of day, weather or work you're anticipating. Specifically and most prominently, though, the benefits that wearing a base layer boasts include:
Staying cool on hot days. When water evaporates, it cools. If it doesn't evaporate fast enough, any remaining liquid will also feel the effects of conductive cooling. This is called evaporative cooling, and comfortably loose, thin, moisture-wicking materials are great at working with it. So in the summer, the goal of a base layer like this is to encourage the evaporative cooling process and move it as close to the skin as possible. If it's hot outside, you probably will be too. There's really not much that you can wear (or not wear) to significantly lower your body temperature. Instead, a base layer is more about keeping you as comfortable as it can while you try to deal with it!
Staying warm on cold days. Odd as it may be, the same base layer keeping you cool could also keep you warm! How your base layer can keep you warm is not such an odd idea to understand. While you will still be aiming for absorbent and breathable to help wick the sweat away from your skin, the goal of your warming base layer is to avoid feeling the evaporative cooling effect. So, opposed to your summer pieces, these should be much thicker. Along with that, they will be much tighter in order to act almost as a second skin!
Covering hair or skin that's exposed beyond what's appropriate — for instance, if you have excessive chest or arm hair that may be better buried under an undershirt or if you have excessive cleavage that you feel the need to cover more completely to complement your professional image.
Creating clean lines (and hiding inappropriate underwear lines) while helping your scrubs to fall and lay nicer and more effortlessly. Your scrubs may be durable and comfortable — but that doesn't mean they're super thick, so make sure you're always checking for any unforeseen undergarment lines!
Having an immediate after-work ensemble or mid-day emergency change if needed. Whether you've been invited out after work by some coworkers and don't have time to run home and change or you have had a particularly messy day and have gone through your backup scrubs already — your underscrubs are there!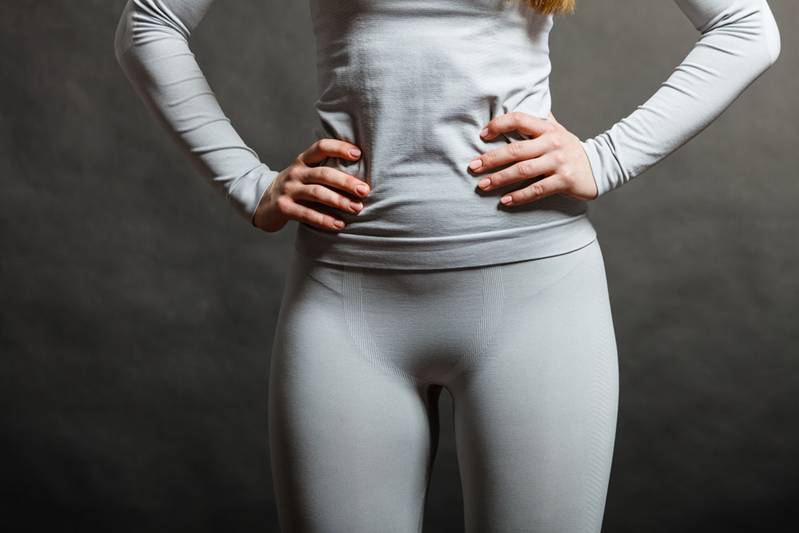 What Your Base Layer Could Consist Of
We know now that we want loose, thin and moisture-wicking materials in the summer months and thick, tight and absorbent fits when the frost forms, but what about specifics? In combination with the qualities just listed, the following items will make the perfect base layer pieces for almost any season or situation, so consider:
Tank tops, tshirts and long sleeve styles of undershirts all exist and should all absolutely be embraced! Tank top style undershirts will be, by far, the most versatile base layer pieces in your work wardrobe!
T-shirts. If you tend to always wear a jacket or sweater on top and don't see the colors and styles of your scrub tops, consider t-shirt style undershirts! T-shirts will be good year-round and will do a better job than tank tops at absorbing and carrying away sweat (because, let's face it, if it is warming up, you're bound to get too hot and sweat a little during the day as a jacket/sweater person!).
Long-sleeve shirts make for great base layer pieces because they don't have to be specific or special to work their magic. With long-sleeve shirts being accessible and affordable in all sorts of colors and styles, they can also make for some fun and fashionable outfit ideas!
Bicycle shorts worn under lightweight or soft colored scrub pants can combat underwear lines and complement your shape in a killer way. Come cool or warmer weather, bicycle shorts may be heavily preferred over leggings, thanks to their ability to regulate temperature and wick away sweat to keep you from getting shivery or swampy, WITHOUT additional compression or restriction in the legs!
Leggings are a tried-and-true base layer piece under scrubs, thanks to a combination of their affordability and effectiveness. No matter the work or weather, it seems that a thin pair of leggings under a thin pair of scrub bottoms tends to equal out to the perfect temperature!
What Your Base Layer Should Be Made Of
The medical scrub uniform has been mindfully designed to be as sanitary and functional as possible and to withstand situations and facilities like no other for prolonged periods of time. So if you wear scrubs, you don't want to wear just anything under them. You'll want to keep comfort, sanitary standards and mobility in the front of your mind.
For instance, materials like wool will warm you up, but will most likely leave you overheating, unsterile and even itchy at the end of your 12-hour shift. Instead, materials such as cotton, polyester and bamboo (when blended) will do what's desired of them while being easy to maintain and allowing for optimal performance.